Rapper Bill Kahan Kapri, popularly known by his stage name "Kodak Black," was one of 73 people granted pardons by former President Donald Trump before he left office earlier this year. On Sunday, the rapper announced his acceptance of "Jesus as my Lord and Savior."
The announcement from Kapri comes days after Christian ministers Kevin Louidor and Annia Icart, who both attend King Jesus Universal Ministry, prayed with the artist at a gas station in Florida last Tuesday.
On Facebook, Louidor also shared how shortly after they helped the rapper pray, God protected their lives in a grisly crash.
"TESTIMONY! GOD SAVES! On our way to our church King Jesus Universal Ministry with my sister in Christ Annia Icart, we went to stop by the gas station and we happen to meet a popular rapper Kodak Black and the Lord used us to minister to him and his crew, and Kodak gave his life to Jesus Christ!" Louidor wrote.
"Then after we was done, we started driving to church and the presence of God filled the car, and we [were] praising God and out of nowhere [I] start[ed] speaking in tongues and declare may the angel of protection be with us! And soon as I finished saying that the car lost control and we got [into] a car accident. We know the enemy is not happy of what took place because we brought a soul to kingdom so he retaliated! Victory is won! Jesus is Lord!" he declared.
In a video of Kapri saying the prayer, he declared to God, in part: "I pray right now that you forgive me of all of my sins, and I receive your forgiveness and I believe that Jesus Christ died on the cross for my sins and He rose from the dead. I accept you, Jesus, as my Lord and my Savior. Come into my heart, clean me up. Use me for your glory. I believe that if I was to die that when I wake up, I will be in your arms. In Jesus' name, I am saved. Amen."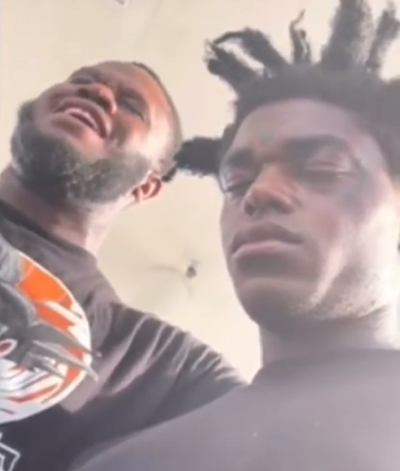 On Sunday, Kapri, who previously identified as a Hebrew Israelite, shared the video of his conversion in a post on Instagram. He captioned the video, "GOD VS THE DEVIL WHO SIDE YOU ON FA THE WAR?"
The Christian Post reached out to King Jesus Universal Ministry, Louidor, Icart and Kapri for comment on Monday but none of them were immediately available.
Icart, who is of Haitian heritage along with the rapper and Louidor, shared on her Facebook page that shortly after the accident, her mother received a call from a pastor in Haiti who said he had been praying against "death."