Democratic California Rep. Maxine Waters lashed out at Housing and Urban Development Secretary Dr. Ben Carson on Sunday, claiming he lacks the experience and "intelligence" required for his job amid policy debates about affordable housing, homelessness and housing discrimination.
Waters' attack against Carson comes after she engaged the HUD secretary last week in an escalating war of words over America's homelessness crisis.
"I sent him a letter and he sent me a letter claiming that I had no manners et cetera. I basically said to my staff, 'I really don't have time to be bothered with somebody who doesn't know the difference between REO and OEO. This guy just doesn't have the background, the capability, the intelligence to do the job. He doesn't know what he's doing. He doesn't care about this issue. He rises to the occasion to basically support this president any opportunity that he gets," Waters told MSNBC's "AM Joy" host Joy Reid as she slammed the retired neurosurgeon as a lackey for President Donald Trump.
"Housing is a problem in this country, people cannot afford rental units, they cannot afford to buy a house. We've gone through the problem in 2008 where many of these homes were foreclosed on because of the exotic products that were being put out by the financial services community, by the banks, the big financial services organizations. And so we cannot stand back and say we can't get the support that we need. We have to just keep pushing and pushing hard," she said while discussing proposals to address affordable housing and homelessness.
Waters also criticized Carson over his proposed rule to amend the HUD interpretation of the Fair Housing Act's disparate impact standard, which is used to address hidden housing discrimination.
In an August news release, HUD explained that the proposed rule as amended would provide more appropriate guidance on what constitutes unlawful disparate impact to better reflect the Supreme Court's 2015 ruling in Texas Department of Housing and Community Affairs v. Inclusive Communities Project, Inc.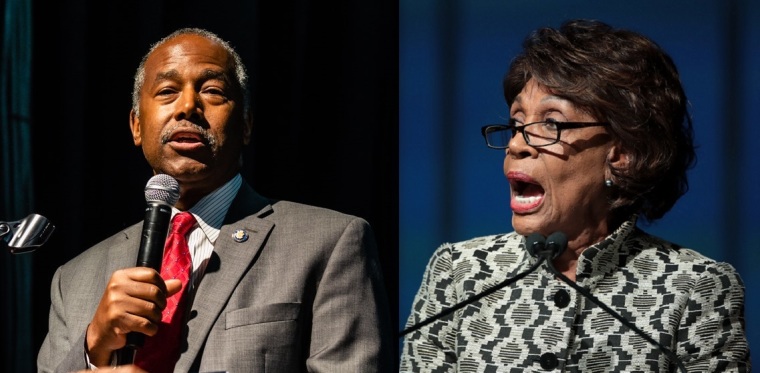 "This proposed rule is intended to increase legal clarity and promote the production and availability of housing in all areas while making sure every person is treated fairly under the law. As we have shown time and again, we will challenge any practice that discriminates against people that the law protects. At the end of the day, this rule not only increases Americans' access to fair and affordable housing, but also…